Shipping to the US and Canada 2-7 business days 
30 day Money-Back Guarantee

Covid-19 Announcement: Shipping may take longer than expected, thanks for your patience in these tough times and stay safe!

Ships from the USA  
___________

Stylish and compact,
NiftyGate
is a
children and pets safety gate
that was designed with simple installation, ease of use,
durability
, and most of all
safety
in mind.
Investing in
NiftyGate
is an
investment in your family and your home
and we know how you want that to be an investment that will last.
-Durable & Sturdy:
The mesh is very durable, yet still allows you to clearly see through it. The Nifty is made from a scratch-resistant mesh that has been proven durable for big dogs. In other applications this same mesh is used for truck tarps to hold down cargo, so dogs will not be able to bust through it. 

- STOP Your Dog From Running Out of the Front Door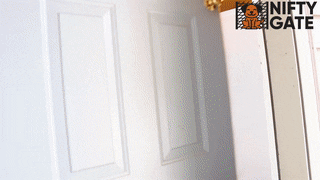 -Easy to open: Nifty Gate makes opening and closing a breeze! In fact, it only takes one hand! And that comes in handy when you're carrying things around


-Indoor and outdoor :
The Nifty gate has been extensively tested in outdoor uses with flawless results. We have tested the Nifty gate outside during a full Iowa winter, again, with flawless results.


-Keep your baby away from hazardous stairs and off-limits areas like the kitchen.
-Convenient to Handle: To unlock the mechanism, simply push down and turn the button clockwise, grasp the handle to extend the gate.
-Perfect for doorways, between walls, or stairwells, indoors and outdoors
-Lightweight & Portable: It can be easily stored without requiring a lot of space,

-High Quality & Standard Approved. All gate lines are tested to the safety standards, meeting or exceeding both ASTM or EN standards.

Package Includes

* 1 x Nifty Gate

* Installation components:  screws, catch mounts, wall spacers for the baseboards

* 1 x Product Instruction Manual